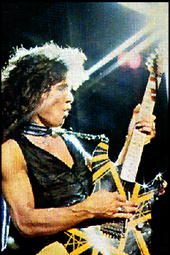 With their 1978 eponymous debut, Van Halen simultaneously re-wrote the rules for rock guitar and hard rock in general. Guitarist Eddie Van Halen redefined what electric guitar could do, developing a blindingly fast technique with a variety of self-taught two-handed tapping, hammer-ons, pull-offs, and effects that mimicked the sound of machines and animals. It was wildly inventive and over-the-top, equaled only by vocalist David Lee Roth, who brought the role of a metal singer to near performance art standards. Together, they made Van Halen into the most popular American rock & roll band of the late '70s and early '80s, and, in the process, set the template for hard-rock and heavy metal for the '80s. Throughout the '80s, it was impossible not to hear Van Halen's instrumental technique on records that ranged from the heaviest metal to soft-pop.

Through all the upheaval over lead vocalists, Eddie Van Halen and his prodigious talent remained at the core of Van Halen. The son of a Dutch bandleader, Eddie and his family moved from the Netherlands to Pasadena, California in 1967, when he was 12 years old and his older brother Alex was 14. As their father supported the family by playing in wedding bands, Eddie and Alex continued their classical piano training. Soon, both boys were enraptured by rock & roll. Eddie learned how to play drums and Alex took up the guitar, eventually switching instruments. The brothers began a hard-rock band called Mammoth and began playing around Pasadena, eventually meeting David Lee Roth. At the time, Roth, who had been raised in a wealthy Californian family, was singing in Redball Jet. Impressed by the Van Halen brothers, he joined forces with the group. Shortly afterward, bassist Michael Anthony, who was singing with Snake, became a member of Mammoth.

Eddie Van Halen became a role model for modern guitarists, regardless of their tastes and preferences. His talent and skill were unquestioned, and he demonstrated a dazzling array of techniques, from simple riffs to extended solos filled with intricate fret work. "Eruption," an instrumental track on the first album, became his calling card as it was transformed into a lengthy showcase during concerts.

EVH Gear
The Custom built "Franken-Strat"
1978 to 1984

Edward bought the ash body from Linn Ellsworth in 1975 for fifty dollars and the neck (also a cast-off) for eighty dollars. Originally, the body came with single-coil bridge, neck, and middle pickup positions pre-routed and Van Halen, with a chisel, excavated a hole to house a humbucker in the bridge position. He placed in this chiseled hole a P.A.F. from a 1961 Gibson ES-335. The pickup was also "ruined" but sounded good so it's what he used. The single-coil neck pick-up was completely disengaged. The guitar was first sprayed with black and then white Scwinn acrylic lacquer bicycle paint and mounted a black strat-style pickguard (also home-made) eventually only covering the two front (electronics) routings. The Guitar was eventually repainted with red, black and white stripes and orange truck reflectors added to the back of the guitar.. This red-Frankenstrat first appeared as the black and white guitar pictured on the debut VH album The nut was brass and the tailpiece unit was from a 1961 Fender Stratocaster. This guitar was Edward's main instrument for the first several albums and tours. During the band's second world wide stampede Van Halen replaced the original tremelo with then-prototype Floyd Rose. A quarter was attached just under the top-back side of the floyd Rose to keep it from rising up.That first Linn Ellsworth neck was broken by the guitarist's rigorous stage antics and replaced with whatever was handy (including a Danelectro at one point). The Ellsworth neck sported Gibson jumbo frets ("I put those in with the help of some Crazy Glue"-EVH). The tuning heads were Schallers. "There's really no secret. The reason I use what I use is through trial and error,"-EVH
---
Kramer Guitars
1983 to 1991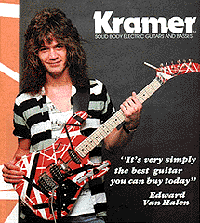 In 1983 Ed began endorsing Kramer guitars and used customized Kramer guitars and necks.

Although a Kramer EVH signature model was never created the Kramer "Baretta" was modeled after Ed's frankenstrat (minus the paint job and other EVH customizations)
---
The Stienberger
1986 to 1998

Edward introduced the Stienberger Tran's Trem equipped guitar into his arsenal in 1986.
This transposing trem first appeared on the 5150 album and tour. The trans-trem tremelo can be heard on the songs "Summer Nights" and "Me Wise Magic" to name a few
---
EVH Music Man Signature Guitars
1991 to 1994

In 1991 Ed collaborated with Earnie Ball to create a EVH signature guitars of Ed's design.
Ed and Earnie Ball split in 1994
due to problems with slow production and distribution.
Size: 12 5/8" wide, 1" thick, 36 5/8" long
Weight: 8 pounds. Varies Slightly
Body: Wood Basswood with bookmatched figure mapel top
Finish: High gloss polyester
Bridge: Music Man Floyd Rose licensed tremolo
Neck
Size Scale: 25" Radius: 10"
Headstock: Only 5 7/8" long
Frets: 22 - Special design unique profile fretwire
Width: 1 5/8" at nut, 2 5/32" at last fret
Wood Selected: maple neck and fingerboard, digitally carved
to Ed's specifications
Tuners: Schaller M6La with pearl buttons
Electronics
Pickups: 2 Custom DiMarzio Humbucking
Controls: 500K volume pot with "tone" knob (the way Ed likes it!)
Switch: 3-way toggle pickup selector
---
The Peavey EVH Wolfgang
1995 - Present

Edward considers the Wolfgang the natural evolution of the Ernie Ball/Music Man guitar. "It's what I would've done had I stayed with Music Man. That would've been the next step," suggests Ed. "The angle of the neck is better, it's balanced better, it's got an arched top, and it's got the D-Tuner," he points out. Ed, in fact, owns the patent to the unique D-tuner. (The "D-Tuna" d-tuner allows you to drop the low E string to a D with the flick of a switch without unclamping the trems nut lock.)
Scale: 23 1/2"
Body: Basswood or figured Maple top with
basswood bottom
Neck: Bolt on oil finished figured birdseye Maple, graphite
reinforced scuplted joint
Fret Board: Birdseye Maple
Frets: 22
Pickups: Two Humbucking designed to Edward
Van Halen's specifications.
Controls: Volume, Tone, # wat Pickup Selector
Bridge: Floyd Rose Licensed double locking tremelo with
patented D-Tuner
---
Fernandez Sustainer
Ed uses the Fernandez Sustainer pickup which is housed in a Custom Wolfgang guitar (not offered by Peavey). The sustainer can be heard on the songs "Me Wise Magic" and "A Year To The Day" to name a few.

Ed has started using a Wolfgang Special's equipped with the Stienberger transtrem which replaces his customized Stienberger guitar
---
Guitar Setup
Ed's guitars are strung with Peavey extra-light strings, gauges .009 to .042 Ed sets his action as low as possible for the easiest playability with the least amount of resistance. His personal setup recipe is as follows, "I lower the strings to the point of buzz and then back it off just a hair. Why make it hard?" Ed uses a non-floating Floyd Rose tremelo system which preserves the bridge to guitar-body contact giving a more stop tail piece level of sustain and tone"
I don't know anybody that uses the damn tone control on a guitar, at least I don't. For me, it's all the way up, period." -EVH

"I like thin frets, that way it's more precise, the bigger, the fatter the fret is the worse the intonation is."-EVH



Picture Gallery
Choose below from the many different Eddie categories of the Picture Gallery or browse the ClassicVH.com's Gallery or Museum for other pictures.


Eddie Van Halen

The Band

In Concert

Dave and Eddie

Family Pics

Eddie and Alex


Other Celebrities





Eddie Links
Websites dedicated to the greatest guitarist in rock history.


"The worse the press, the better." - Creem, May 1984
"I don't even listen to the radio. I don't buy records, I don't listen to anything. D don't mean that I think I'm too good, that I don't have to - but I don't get inspired by listening to anything, except maybe Debussy." - Creem, May 1984
"Fuck if I know how I do the things I do. I just come up with 'em." - Hit Parader
"What's a great song? Lots of people think songs without singing is not a song. Tell Beethoven that and he'll kick your ass!" - Guitar World, July 1985

"Jimmy Page is an excellent producer. Led Zeppelin 1 and Led Zeppelin 2 are classics. As a player. He's very good in the studio. I never saw him play well live. He's very sloppy. He plays like he's got a broken hand and he's two years old. But if you put out a good album and play like a two-year-old live. What's the purpose?" - Guitar World, January 1981

Rethinking Jimmy Page:"He's a genius. He's a great player, a songwriter, a producer. Put it this way, he might not be the greatest executor of whatever, but then you hear a Page solo, he speaks. I've always said Clapton was my main influence, but Page was actually more the way I am, in a reckless-abandon kind of way." - Guitar World, February 1990
Dave somehow manages to come up with something for some of my most fucked up guitar playing. I'm thinking, nobody could do anything with this!! 1980

On David Lee Roth following the commotion with him after the 1997 Music Awards:
"Well, he's an intelligent, well-read guy. But it's like he can't connect the dots somehow." (Guitar World, March 1998).
On how he developed his own style:
"I was so used to doing old blues licks with the first three fingers. When I started using my pinky and finding more spread things, that's when I started getting my own style." (Guitar Classics XI--Guitar Presents #27, 1995)
On Music Inspiration:
"Everything comes to me while I'm sitting on the pot." (Guitar World, March 1998)
On musicianship in general:
"You've only got 12 notes and however you mix them up is your thing." (Guitar Classics XI--Guitar Presents #27, 1995)



Marshall

In Van Halen's early years Ed's now classic tone was a partly due to his 1960's(66 or 67)Marshall Super Lead 100-watt "Plexi" head. The Marshall ran on standard EL34's Sylvania' tubes. Ed used a Variac to lower the voltage according to the sound he wanted to hear
---
Soldano SLO100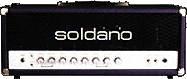 When Ed's Marshall started to fail him in the early 1990's he switched to Soldano SLO100
---
Peavey
Ed has settled in on his Peavey 5150 and 5150 II signature series amps. Although Ed has had his vintage Marshall restored he relies on the 120-watt 5150 series amplifiers for most studio and tour applications
---
Many thanks to GuitarGods.com for the descriptions and pictures of Eddie's gear.